In 1296 AD, King Mang Rai built a new city called Nopburi Sri Nakornping Chiang Mai or today's Chiang Mai, where he lived until his death. By then Chiang Rai had become the city for the crown prince. After the founding of Chiang Mai, Chiang Rai's status was diminished to that of a minor city while Chiang Mai became the center of the kingdom. With Chiang Rai's reduced political and economic status, the city became an important center for culture and arts, which importantly were less influenced by foreign cultures. Being isolated artists from Chiang Rai were inspired by their natural environment and
the local culture.

Chiang Rai's rich cultural heritage has also attracted artists from elsewhere to settle in and around the valley. The art community plays a central role in Chiang Rai society and the community has been united with the establishment of the association of Chiang Rai artists. Many of the artists exhibit their works at galleries adjacent to their homes and studios, which in many cases they have designed themselves. Their homes reflect their personalities and aesthetic, and as such are the ideal environment in which to display their work. These studios and galleries have become popular meeting places for friends, art lovers, critics and collectors all year round.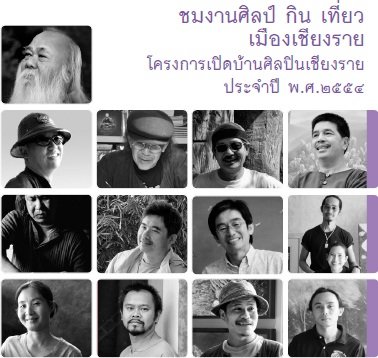 In 2011 Chiang Rai and Chiang Rai's Provincial Cultural Bureau are proud to present the Chiang Rai Artist's Open House campaign. The project aims to build on the reputation of the Chiang Rai artist community and encourage cultural learning and tourism in Chiang Rai. Thirteen artists are participating in the project this year,. and they are listed.